Skip to Main Content
It looks like you're using Internet Explorer 11 or older. This website works best with modern browsers such as the latest versions of Chrome, Firefox, Safari, and Edge. If you continue with this browser, you may see unexpected results.
A few scanned detailed maps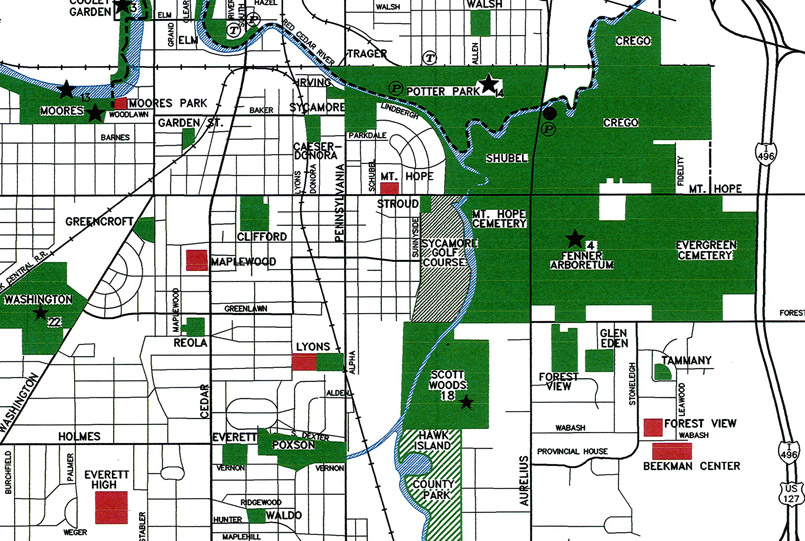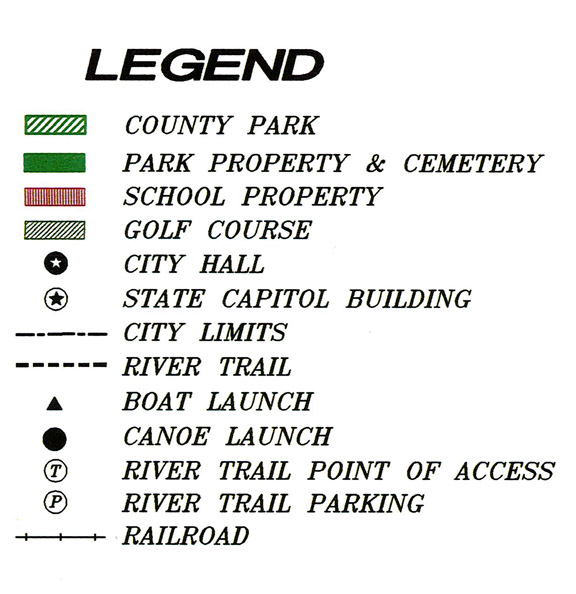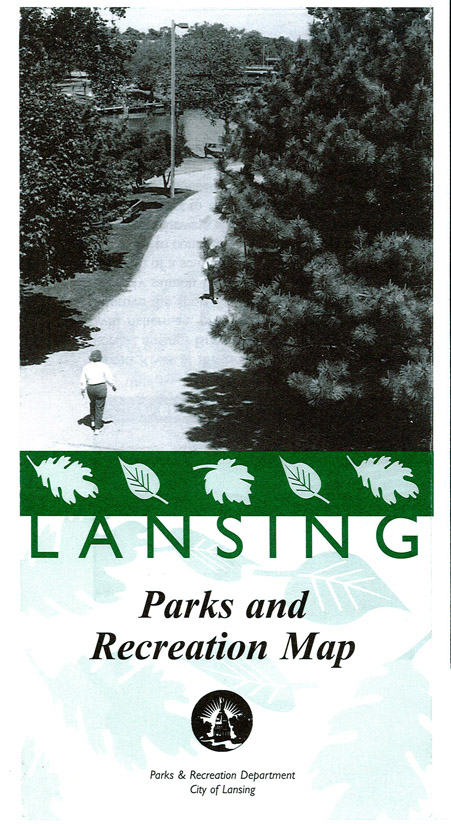 Details from: Lansing parks and recreation map. Published in Lansing, Michigan, September 1999 by the Lansing Parks & Recreation Department. Library catalog record: http://catalog.lib.msu.edu/record=b7274008~S39a
GIS datasets are often created by the managing unit of government. So this creates problems with parks -- the city government manages city parts, the county government manages county parks, etc. But when doing a site study, you are likely interested in all parks regardless of their managing unit. This map kindly includes all kinds of parks plus related greenspaces such as cemeteries. Having been published in 1999, it doesn't include any trails.
Lansing area bicycle trail map, 2018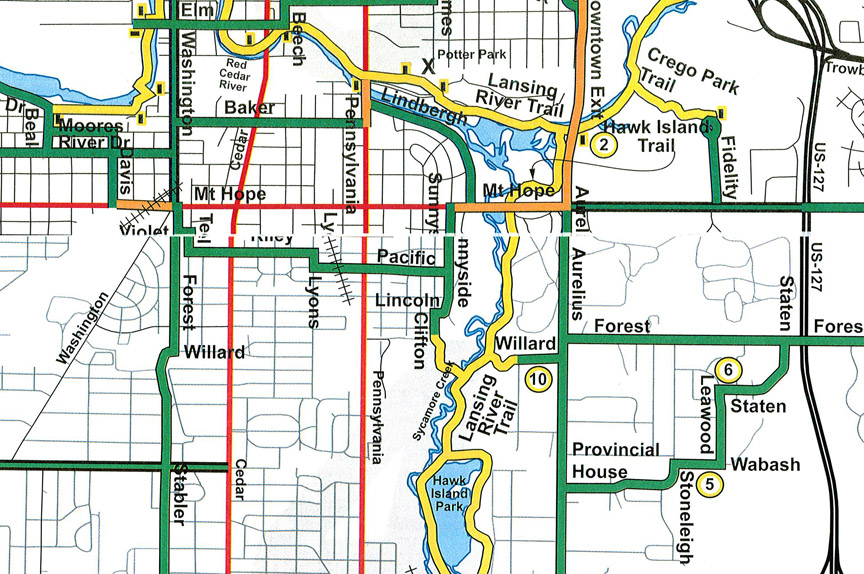 Detail from Crosstown bicycle route map, published in Lansing in 2018 by the Tri-County Bicycle Association. not yet cataloged by MSU Libraries.
This booklet is published periodically, the most recent edition came out in 2018. It includes trails managed and maintained by a variety of entities, plus marks those roads that are particularly good or bad for bicycle traffic. It has very little information about parks.
Sanborn Fire Insurance Maps
Fire Insurance Maps Online (FIMo)

This resource contains full color detailed town maps of 339 Michigan towns from 1880 to 1960. Most content is from the Sanborn Fire Insurance Company, but this growing database will continue to add fire insurance maps from other publishers and other large scale maps. The database is searchable by address, by coordinates, or by a clickable map interface.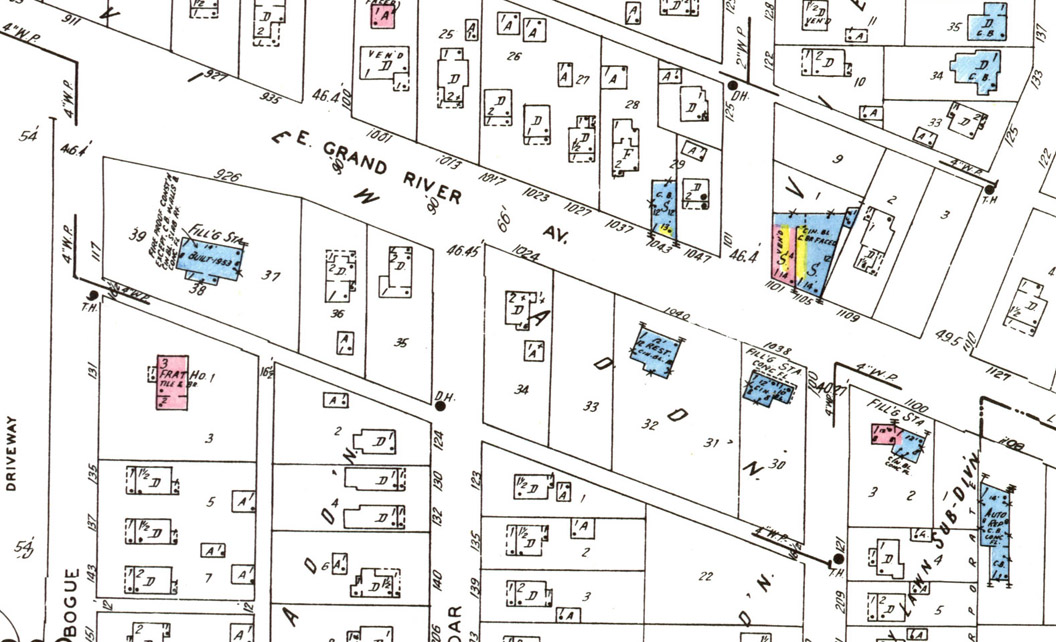 The Sanborn Fire Insurance company made extremely detailed maps of city centers (about 335 cities in Michigan alone) between the 1880s and 1950s. It provides incredible detail about the size and shape of individual buildings and even how many stories they are. Pink and blue indicate brick and stone siding.
Nirenstein's real estate atlas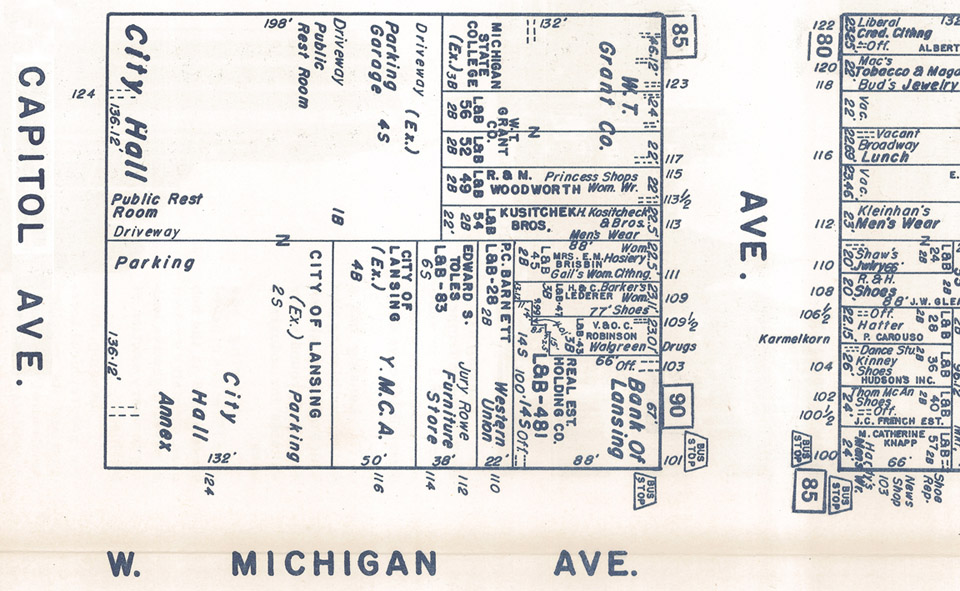 Detail from Nirenstein's real estate atlas of the Central States: preferred real estate locations of business properties... published in Springfield, Massachusetts in the 1950s by Nirenstein's National Realty Map Co. Library catalog record: http://catalog.lib.msu.edu/record=b3056969~S39a
We have scanned the pages for Dearborn, Detroit, Flint, Grand Rapids, the Gratiot/7-Mile area, Lansing, Pontiac, and Saginaw. We only have this one undated edition that was made some time in the 1950s.